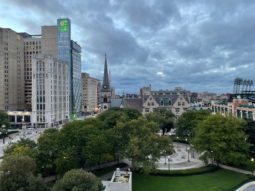 In this week's How on Earth, we focus on how cities can foster biodiversity in an effort to mitigate the effects of climate change.
First, we speak with author and journalist Tony Hiss (4:29), who says that while the Earth is rapidly losing species, we can still do something about it. In his latest book, Rescuing the Planet: Protecting Half the Land to Heal the Earth (Vintage), Hiss recounts the numerous ways in which grassroots movements around the world are creating habitats that are allowing biodiversity to thrive, including in least obvious of places — cities.
Next, we discuss how this is being done in Colorado by the nonprofit organization, Denver Urban Gardens (DUG). Creighton Hofeditz (14:37), the Director of Permaculture and Perennials at DUG, tells us how he turns empty city lots into "food forests" — a type of agroforestry — for residents in the metro area. The creation of these gathering spaces for humans also gives nature a place to thrive.
Hosts: Beth Bennett, Benita Lee
Producers: Benita Lee, Alexis Kenyon
Engineer: Shannon Young
Executive Producer: Beth Bennett
Listen to the show:

Podcast: Play in new window | Download (Duration: 32:07 — 22.5MB)
Subscribe: RSS