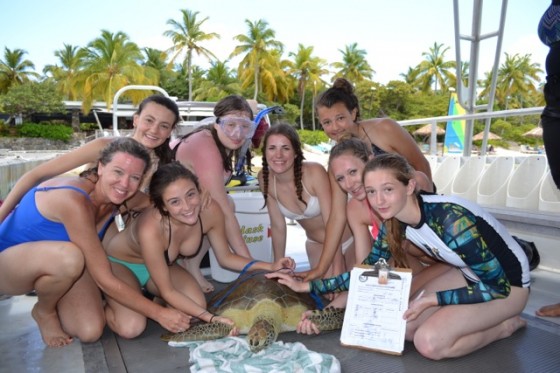 Teens4Oceans (starts at 9:15): Today, we're kicking off a series of interviews on the show called The Ocean Is Us. We'll explore how all of us living in land-locked Colorado are connected to the ocean — whether it's through our watershed that flows into the Gulf of Mexico, or the fish we buy at the grocery store, or the carbon dioxide we emit that acidifies the oceans. Teens4Oceans is a nonprofit organization based in Colorado that is inspiring teenagers nationwide to become passionate ocean lovers and scientists through experiential learning — doing real marine research in the field.
How On Earth's Susan Moran interviews Mikki McComb-Kobza, a marine biologist and executive director of Teens4Oceans, and Shelby Austin, who recently graduated from Ralston Valley High School in Arvada. For more information on our inland connection to the ocean and you can get involved, visit Colorado Ocean Coalition. And check out KGNUs year-long series, called Connecting the Drops, on Colorado water issues, at kgnu.org and yourwatercolorado.org.
All features in The Ocean Is Us  series can be found here.
Hosts: Susan Moran and Joel Parker
Producer: Kendra Krueger
Engineer: Joel Parker
Executive Producer: Joel Parker
Listen to the show:

Podcast: Play in new window | Download (Duration: 23:38 — 21.6MB)
Subscribe: RSS