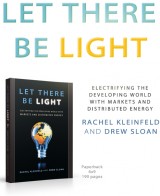 In today's How On Earth we have two features:
Distributed Energy (start time 5:46): Enjoying the twinkling stars without nighttime light pollution is a luxury for many of us. We can flick on the switch when we return home, after all. But think what would it be like if you were among the 1.5 billion people around the world who lack to centralized electricity. Having no lights at night keeps many of them  poor and illiterate, and it can create a public health and national security crisis. How On Earth co-host Susan Moran interviews two experts in the field of distributed and decentralized energy.  Rachel Kleinfeld is co-author (along with Drew Sloan) of a new book called "Let There Be Light: Electrifying the Developing World with Markets and Distributed Energy." She is CEO of the Truman National Security Project. Stephen Katsaros is  founder of Nokero, a Denver-based startup company that makes solar LED light bulbs.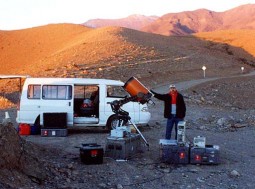 Pluto's Occultation (start time 16:31): It is a good time these days for watching solar system. Last week there was a solar eclipse, next week is a lunar eclipse and a transit of Venus (where Venus can be seen moving across the disk of the Sun).  Next week there is yet another solar system event of one object moving in front of another, though it's not visible without the aid of a telescope. On June 4th Pluto will pass in front of a relatively bright star, an "occultation" event that will send teams of astronomers scrambling around the world to observe.  One team member is How on Earth's own Joel Parker, an astrophysicist with the Boulder office of the Southwest Research Institute. He'll be deployed to an observatory in New Zealand to observe the occultation.  Joel talks with How On Earth co-host Tom McKinnon on the eve of his adventure about the occultation and why scientists are interested in observing it. (Here's an article and video about last year's occulting Pluto.
Hosts: Tom McKinnon, Susan Moran
Engineer: Jim Pullen
Producer: Susan Moran
Executive Producer: Joel Parker
Listen to the show:

Podcast: Play in new window | Download (Duration: 24:45 — 22.7MB)
Subscribe: RSS