Today, April 29th, we offer two features:

Baseball Vision (starts at 5:42): The major league baseball season is now in full "swing." Fans may  take it for granted that these professional athletes are in top physical condition.  What's less known is how important it is for baseball players to have perfect eyesight.  Batters in particular have some of the best vision in the world.  To find out how scientists know this, and study it, and even make it better, How on Earth's Shelley Schlender last month headed down to spring training in Arizona.  There, she caught up with two of the nation's top experts on the science of vision, and sports.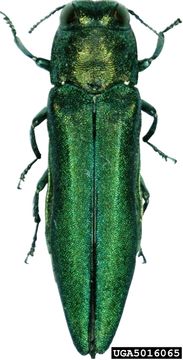 Emerald Ash Borer (starts at 11:21): It's been called the most destructive looming pest blight to hit Colorado in ages. The perpetrator in question is the emerald ash borer, a small shimmery green beetle. It is believed to have hitchhiked to the U.S. and Canada on cargo ships, or airplanes, from its native Asia, in 2002. Since then it has wiped out  millions of ash trees in many states. Last September, the ash borer was first found in Colorado. Ash trees have had no time to develop resistance against the exotic invader.  And meanwhile, the ash borer has no predators here to keep it in check. Dr. Whitney Cranshaw, an entomologist at Colorado State University, talks with host Susan Moran about what we should know about the emerald ash borer.
Hosts: Susan Moran, Joel Parker
Producer: Susan Moran
Engineer: Joel Parker
Executive Producer: Joel Parker
Click below to listen to the show:

Podcast: Play in new window | Download (Duration: 23:56 — 21.9MB)
Subscribe: RSS