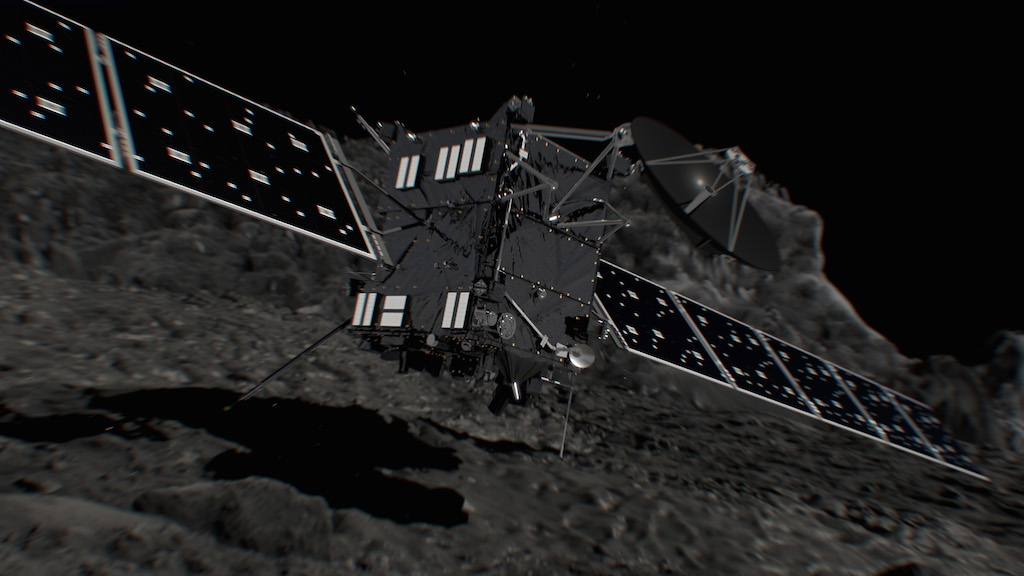 Rosetta [feature starts at 5:27]
The Rosetta Space Mission has been in flight for ever 12 years and will be ending with a dramatic crash this Friday morning around 10:40 UT (4:40 am Mountain time) – it's an event that will be watched and talked about by people around the world.
Rosetta is run by the European Space Agency, with contributions from NASA. The mission's goals have been to study a comet to learn not only about how comets work, but what comets can tell us about the origins of the solar system, and perhaps connections to water and life. Rosetta was the first spacecraft to orbit and escort a comet as the comet approached and flew past the Sun, and Rosetta also carried a smaller spacecraft, named Philae, that performed the first landing on a comet.
The Rosetta mission has a very strong Colorado connection, since one of the instruments – an ultraviolet spectrograph called "Alice" – was operated from the offices of Southwest Research Institute right here in Boulder.We have three members of the Rosetta team here in the studio to talk about Rosetta, comets, and the rather exciting ending planned for the spacecraft in just a few days. Our guests are Andrew Steffl from Southwest Research Institute, John Pineau from Stellar Solutions, and John Noonan who is a recent astronomy graduate from the University of Colorado and is working at Southwest Research Institute.
There's more information on the Rosetta Blog about how to follow the final events of the Rosetta mission.
Hosts: Joel Parker, Alejandro Soto
Producer and Engineer: Joel Parker
Executive Producer: Susan Moran
Additional Contributions: Beth Bennett, Shelley Schlender
Listen to the show:

Podcast: Play in new window | Download (Duration: 27:34 — 18.8MB)
Subscribe: RSS