Colorado's Science Fair Stars (starts at 3:18)

As the end of the school year approaches for high school students, it's a good time to celebrate the achievements and passion of students in Colorado who have excelled in science, technology, math and engineering (STEM). Two of them — Hope Weinstein, a senior at Fairview High in Boulder, and Michael Brady, a senior at Cherry Creek High School in Greenwood Village — were finalists at a renowned global competition last week. It's the Intel International Science and Engineering Fair, which is a program of Society for Science & the Public.
Hope and Michael talk with co-host Susan Moran about their research and their message to other students.
Rosetta Comet Mission (starts at 15:16)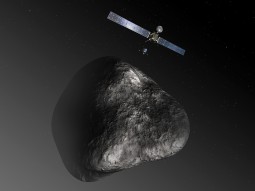 When he's not busy volunteering with How On Earth, Joel Parker is an astronomer with the Southwest Research Institute — and that's the hat he has on today as our in-studio guest. He joins us to talk about the European Space Agency's Rosetta mission, which will tag along with comet 67P/Churyumov-Gerasimenko as it swings nearer to the sun later this summer.
Joel is the Deputy Lead Investigator for ALICE, the ultraviolet spectrometer aboard the spacecraft. He's also the featured presenter at Cafe Scientifique tomorrow night. So think of this conversation as a preview of what you might hear if you join him tomorrow at Brooklyn's down in Denver. Joel will give a very informal talk starting at 6:30 pm, and will try to answer all your tough questions about comets, Rosetta, or anything else. CafeSci is free and open to the public.
Producer: Ted Burnham
Co-Hosts: Ted Burnham, Susan Moran
Engineer: Ted Burnham
Listen to the show:

Podcast: Play in new window | Download (Duration: 24:32 — 22.5MB)
Subscribe: RSS