Feature #1: Neanderthals (start time: 6:01)
Our Neanderthal ancestors have long been maligned as rather dim-witted cave-dwellers. But they may have been brighter — and more colorful — more like us, shall we say.  We turn to the BBC's Science in Action for a look at new research into who these ancestors really were. Here's BBC's Jon Stewart.
Feature #2: Antarctica (start time: 11:03)
It may be hard for people living in Colorado and other land-locked states to grasp that our daily lifestyles – burning fossil fuels every time we turn on the lights or drive our car, for instance – affects the delicate marine ecosystems of the Southern Ocean, from the ice algae to the penguins and whales. And in turn, the health of the plants and animals, and indeed the ice they depend on, in Antarctica, affects our own health.  Cohost Susan Moran interviews Dr. James McClintock, a marine biologist at the University of Alabama in Birmingham, about his new book, "Lost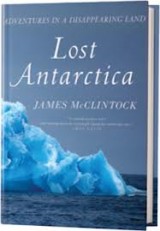 Antarctica: Adventures in a Disappearing Land." He shares his adventures waaayy down under, and his concerns about the future of the fragile and stunning continent. 
Hosts: Ted Burnham, Susan Moran
Producer: Susan Moran
Engineer: Joel Edelstein
Executive Producer: Jim Pullen

Podcast: Play in new window | Download (Duration: 24:06 — 22.1MB)
Subscribe: RSS