We offer two features on this Christmas Eve How On Earth.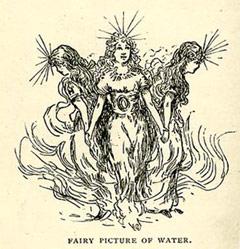 Fairies in 19th century science education (start time: 3:52): Victorian educators used the magical world to teach young children about science. That was before fairies fell out of favor in science, alas. How On Earth co-host Jim Pullen talks with Melanie Keene, director of Studies for History and Philosophy of Science at Homerton College in Cambridge, England, about the understanding of fairies in science education in the Victorian age.
Christmas Bird Count (start time: 12:51) It's the time of year when humans are flying hither and yon to gather with family for Christmas. Others are heading somewhere south for vacation to escape the winter chill.  Many birds are on the move as well, heading south to overwinter. Others are sticking around.  These human and avian patterns are converging with the annual Audubon Society's Christmas Bird Count.  Steve Jones and William Schmoker of the Boulder County Audubon Society talk with co-host Susan Moran about how the Bird Count emerged more than 100 years ago and why it's important.
Hosts: Susan Moran, Jim Pullen
Producer: Susan Moran
Engineer: Jim Pullen
Executive Producer: Beth Bartel
Listen to the show:

Podcast: Play in new window | Download (Duration: 24:31 — 22.5MB)
Subscribe: RSS