Earth Day gives us plenty of reason to reflect on the state of the planet and the impact we humans have had on it. This week's show featured Dr. Linda Mearns, a senior scientist at the National Center for Atmospheric Research in Boulder, who is among hundreds of scientists who produced the latest report on global climate change. She's a lead author of a chapter on regional climate change in the Fifth Assessment Report (AR5) of the United Nation's Intergovernmental Panel on Climate Change. She also co-authored previous IPCC assessments – in 1995, 2001, and 2007. Dr. Mearns talks with How On Earth host Susan Moran about the science and implications of the IPCC report, including what it means for Colorado and the broader U.S. West.
Unfortunately, due to a technical glitch at the station, the recording of that live interview was lost. But we still have audio from our second feature.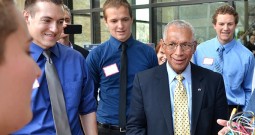 Charles Bolden, the top administrator at NASA, was here in Boulder last week, touring the classrooms and facilities that earn the University of Colorado more space agency dollars than any other public university in the nation. We'll hear what he has to say about CU's role in the space program — past, present and future.
We've also recreated the Earth Day tribute that opened the show. These days it's more like Earth Week, and it's not too late to catch some of the planet-happy celebrations going on in the Boulder area this weekend. Listen for details.
Co-hosts: Ted Burnham, Susan Moran
Producer and Engineer: Ted Burnham
Listen to the show:

Podcast: Play in new window | Download (Duration: 14:39 — 13.2MB)
Subscribe: RSS