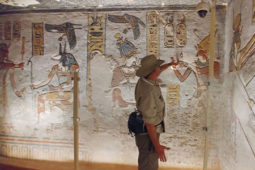 NCAR and NOAA open for visitors (Starts 1:00) COVID pandemic rules were lifted earlier this year, so Boulder's National Center for Atmospheric Research and National Oceanic and Atmospheric Administration are once again open for public tours.
LASP Artist in Residence Applications due July 21 (starts 2:12) CU-Boulder's Laboratory for Atmospheric and Space Physics is accepting applications for an Artist in Residence program, where three artists will shadow a scientist or engineer, to learn about the work done at LASP, and to produce artwork inspired by their time at LASP.
Boulder Society for Scientific Exploration (starts 3:05) has many fans among well-known scientists, but it also has many critics, who charge that much of the society's work promotes pseudo-science. We speak with Paul Sperry, Co-Founder of the Boulder Society for Scientific Exploration, about why he values "fringe science" and how be believes more intuitive approaches to Life and science can benefit scientific discovery. We also discuss the next SSE talk on June 23rd, and how to reserve a seat.
Show Producer/Engineer: Shelley Schlender

Podcast: Play in new window | Download (Duration: 26:46 — 36.8MB)
Subscribe: RSS