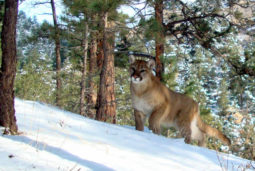 In this episode, Jill Sjong interviews Wild Nature Media's David Neils who has been studying mountain lions and other apex predators in Colorado's wild lands for over 20 years using remote cameras.  They visit one of the front range's best habitats for mountain lions, the Sylvan Dale Guest Ranch, located near where the Big Thompson Canyon opens up west of Loveland. Sylvan Dale has put 70% of its land into a conservation easement.
We get answers to our mountain lion questions: what is predictable about them? What are our greatest misunderstandings about them?  What makes certain Colorado lands such an ideal habitat for them? In what ways are they remarkably different from other apex predators? How are their populations doing?  And what about the recent media coverage on mountain lions?
Listeners can learn more about mountain lions and other apex predators at Wild Nature Media, and sign up for presentations, workshops and nature hikes.
Host and Producer:  Jill Sjong
Executive Producer:  Beth Bennett
Listen to the show:

Podcast: Play in new window | Download (Duration: 26:37 — 18.6MB)
Subscribe: RSS