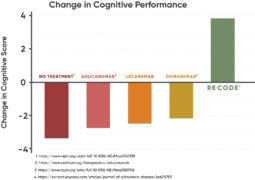 Various experts share pros and cons about Lecanemab (starts 1:00) the newly approved drug for Alzheimer's.
Dale Bredesen of Apollo HealthCo (starts 5:30) shares his criticisms of the new Alzheimer's drug and gives recommendations for better ways to improve cognition.
Links to topics mentioned in this show:
American Alzheimer's Association Statement urging Medicare and Medicaid pay the (estimated) $26,000 annual cost for Lecanemab, per person.
Olive Oil reduces Dementia Risk Harvard Study shows a 29% reduction in risk of dying from Dementia among people who consume a little olive oil every day, compared to people who don't consume olive oil.
Aricept is  associated  with faster long-term memory decline  Aricept is often prescribed for improving cognition among people diagnosed with memory impairment.  A second study  reports that among people who take drugs like Aricept, "previous analysis of observational studies indicates such individuals experience greater rate of decline on cognitive testing than those not receiving such medications."
Previous Science Show Interviews . . . about Dale Bredesen:  Alzheimer's Reversal (The Health Hacker's Group, APOE4.Info and Dale Bredesen's book The End of Alzheimer's ) New Treatments for Alzheimer's (Dale Bredesen's book, The First Survivors of Alzheimer's)
Salmonella Biofilms (How non-human, Curli Amyloid Protein similar to the beta amylooid proteins created within our bodies, can enter the bloodstream from intestinal infections such as e-coli and salmonella)
Leprosy Tango  This skit is by a health expert on leprosy.  It includes the lyrics.
Executive Producer: Beth Bennett
Show Producer: Shelley Schlender
Additional Contributions: Stacie Johnson and Beth Bennett
Engineer: Shannon Young

Podcast: Play in new window | Download (Duration: 26:55 — 37.0MB)
Subscribe: RSS