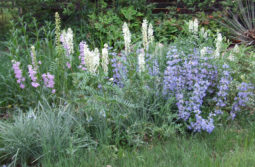 Climate-conscious, pollinator-friendly gardening (start time: 4:55; scroll down for audio file):
This week's episode of How On Earth features a discussion on how cities, neighborhoods, individual residents can plan their landscapes and gardens for a hotter and drier future here on the Front Range. Host Susan Moran interviews Dave Sutherland, a field naturalist formerly with Open Space Mountain Parks; and Fred Berkelhammer, an arborist and president of Berkelhammer Tree Experts, Inc.
Additional relevant resources and how you can get involved:
* Dave Sutherland's upcoming and other guides hikes and pollinator-friendly gardening programs.
* Boulder's Pollinator Gardens and Pathways program.
* Boulder's Cool Boulder campaign.
Host: Susan Moran
Producer: Susan Moran
Engineer: Joel Parker
Executive Producer: Joel Parker
Headline contributors: Benita Lee, Joel Parker
Listen to the show here:

Podcast: Play in new window | Download (Duration: 27:33 — 25.2MB)
Subscribe: RSS