This week's How On Earth features the following two segments: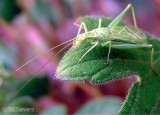 Late-summer Cricket Chorus (start time: 1:02) One of the most poetic sounds of the end of summer is …. no, not your kids kicking and screaming because summer is over. It's the sound of crickets, katydids and other melodic insects "chirping" at night. Our focus here is Snowy Tree Crickets in Colorado. They are called "temperature" crickets because you can calculate what the temperature is outside based on how many times these crickets "chirp" in a certain time period. How On Earth's Shelley Schlender took a stroll recently with two Boulder naturalists — Steve Jones and Scott Severs — to learn more about how, and why, crickets in general make their chirping sound, and why we hear so many of them in the evenings this time of year. Some resources about crickets and their brethren: 1)  http://songsofinsects.com/  2) biology and recordings of nearly all singing Orthopterans (crickets, grasshoppers, katydids), at  Singing Insects of North America (SINA)  http://entnemdept.ufl.edu/Walker/buzz/.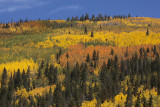 The Science of Aspen (and other) Foliage (starts: 9:40) One of the most iconic images of Colorado is aspen groves quaking in early fall in their brilliant yellow, orange and even red hues. This year, the aspen, and many other plants, are changing colors earlier than normal. Due largely to the extended warm and dry conditions, many aspen leaves are fading and shriveling without turning bright colors. Dr. Jeff Mitton, an evolutionary biologist and a professor emeritus at the University of Colorado Boulder, talks with host Susan Moran about what dictates the timing and intensity of foliage. Dr. Mitton also writes a bimonthly column, called Natural Selections, in the Daily Camera. Here's one (of many) on crickets.
Hosts: Maeve Conran, Susan Moran
Producer: Susan Moran
Engineer: Maeve Conran
Contributions: Shelley Schlender
Executive Producer: Susan Moran
Listen to the show here:

Podcast: Play in new window | Download (Duration: 27:34 — 25.2MB)
Subscribe: RSS