We offer two feature interviews on this week's show: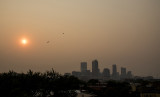 Health Impacts of Wildfire Smoke (start time: 4:22) It's peak wildfire season. Smoke from forest and grass fires contains particulates that can irritate eyes, throat and lungs — especially in children, the elderly, and people already suffering from asthma, allergies, heart disease. How On Earth host Susan Moran interviews Anthony Gerber, MD/PhD, a pulmonologist and an associate professor of medicine at National Jewish Health and the University of Colorado, Denver, about the medical risks of breathing smokey air and what people can do to minimize the impact. The Colorado Department of Public Health and Environment also offers info and warnings on air quality in Colorado.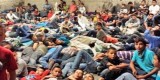 Detained Migrant Children Suffer Medically (start time: 17:02) Since April, when the Trump administration's controversial zero-tolerance policy went into effect to crack down on families crossing the border illegally, more than 2,300 migrant children have been separated from their parents and detained in government detention centers. More recently, about 200 of the children have been reunited with their parents, but bulk of them have not. As a result, many of the children suffer from physical and mental health problems. Colleen Kraft, a pediatrician and president of the American Academy of Pediatrics, talks with host Susan Moran about the medical impacts on migrant children.
Hosts: Susan Moran, Joel Parker
Producer: Susan Moran
Engineer: Joel Parker
Executive Producer: Beth Bennett
Listen to the show here:

Podcast: Play in new window | Download (Duration: 26:21 — 24.1MB)
Subscribe: RSS