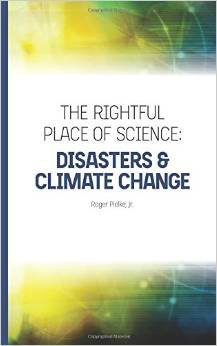 The rightful place of science (starts at 6:22): In 2014, the world certainly saw more than a few costly weather disasters.  Flooding in India and Pakistan in September killed more than 600 people and resulted in economic losses of more than $18 billion.  Super Typhoon Rammasum, which hit the Philippines, China and Vietnam in July caused more than 200 deaths and losses of $6.5 billion. And, closer to home, in August, rainfall and flooding in Detroit, Baltimore and Long Island damaged homes and cities leading to economic losses of about $2 billion.
At the same time, the United Nations Weather Agency states that 2014 was the warmest year on record. So, the question is: Are these natural disasters related to the warming climate?  And are natural disasters becoming more costly because of climate change?
These are questions that Roger Pielke Jr., an environmental sciences professor at the University of Colorado, addresses in his new book "The Rightful Place of Science: Disasters and Climate Change."  He talks with HOE's Jane Palmer about his book and why he believes it is important to maintain scientific integrity while engaging in the climate debate.
Hosts: Kendra Krueger, Jane Palmer
Producer, Engineer: Kendra Krueger
Executive Producer: Kendra Krueger
Additional Contributions: Beth Bennett, Jane Palmer, Joel Parker
Listen to the show:

Podcast: Play in new window | Download (Duration: 25:04 — 22.9MB)
Subscribe: RSS